2km From Home – Our Best Properties for #LockdownLiving!
So we're all on lockdown, we're learning new ways of working from home, the kids are being homeschooled with mixed success, and with playgrounds, parks and all events cancelled, the only time of day you can get out of the house is for a healthy local walk. But is it fair you can only perform your exercise within 2km of your home?
But is it fair you can only perform your exercise within 2km of your home?
That depends on where you live, it could mean beautiful countryside, a lovely open park or even a short trip to the beach. Or it could be an inner city slog with barely a patch of green to be found and plenty of other people to skirt around, observing 2 metres of social distancing.
So where is the best place to live on Lockdown if you can only walk 2kms from home. We've looked at our current available homes and found the best areas you could live in on Lockdown:
---
248 Harolds Cross Road is a great central location in Dublin 6w, a perfect place for commuting into Dublin City Centre (oh that's right, you can't right now). Anyway, this former ground floor office with a 2 bed apartment above is a prime opportunity for a trendy starter home. But if you were living there now, how far could you travel on your daily 2km exercise?
At first it seems like you don't have many options. Although just down the road from the central triangular Harolds Cross Park (once with a great coffee shop, now sadly closed), it seems like you have a bit of a trek to the next nearest bit of decent green space. Both the Phoenix Park and Bushy Park are just tantalisingly out of reach. There's Eamonn Ceannt Park but all of its playgrounds and sport facilities will be closed off. At a push there's always a stroll around Mt Jerome graveyards but it may be too dark at a time of great crisis. Your best bet is to pop up to the Grand Canal and enjoy the swans oblivious to our captivity. Just be careful half of Dublin haven't had the same idea…
248 Harold's Cross Road is on the market for €499,950
---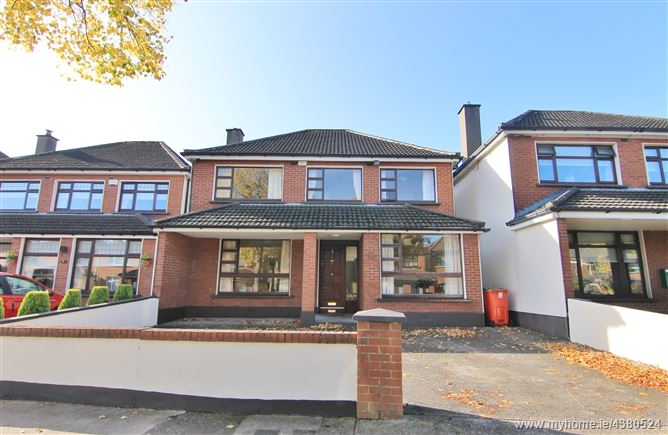 This 5-bed family home in a private estate in the heart of Rathfarnham is much better place, especially for a young family in need of some fresh air. Immediately next door to the fantastic Rathfarnham Castle Park (which we hope remains open for now), it also has some other options a little further afield.
Bushy Park is a nice option just to the north, and would be complemented by a wander along the River Dodder too. You could go almost as far as Templeogue before running into your 2km limit. Going the other way, you could just get into the entrance of Marley Park. You may not technically be allowed to go much further but hopefully theres no guards in the Park checking your address on a map!
7 Rathfarnham Wood is Sale Agreed
---
8 The Oak, Parkview, Stepaside
Getting a little further out of Dublin City Centre, your options open up a little. Perched at the base of the Dublin Mountains, Stepaside is within touching distance of the wide open spaces beyond. This spacious 2 bedroom apartment is a great starter property in a lovely development. While the Luas is less than 1km for your usual commute, today we are more concerned with available areas to exercise and break free of your generous open plan living spaces.
Stepaside really delivers the goods. Just opposite Belarmine, the new Fernhill Park has recently opened up (check out this stunning video from the Dublin 18 Scenery Appreciation Society) on your doorstep. Plus from here you are one of the few Dubliners allowed to walk up to the Three Rock Woods within your 2km limit!
8 The Oak is on the market for €319,950
---
Our new build homes at Brookside Blackrock are in a prime location, near to some of the best (closed) schools, streets and amenities the area has to offer. However, Blackrock suffers a surprising lack of open green space compared to many other suburbs.
From here, you're only option is a 2km-pushing trek down to the coast at Blackrock Park. A treasure itself, and some of Dublin's best coastline, but limited. A hidden gem is the Smurfit Campus off Carysfort Avenue, with a lovely open park and duck pond. Other than that, you just have to enjoy some of the most attractive leafy streets in the area.
Brookside New Homes starting at €925,000
---
Unsurprisingly, one of the best locations to be is Dalkey. This luxury 2 bed apartment in Castlepark, Dalkey is in a perfect location for Lockdown.
Your 2km limit includes not only a great chunk of some beautiful coastline, from Dalkey to Dun Laoghaire, including Sandycove, the Forty Foot, Bullock and Colliemore Harbours. It will also just allow you to walk up Killiney Hill and get at least two-thirds of the way around Dun Laoghaire's East pier!
5 Castlepark Residence, Dalkey is on the market for €495,000
---
Wherever you are on Lockdown, the most important things is who you are with and keeping your family and your community safe. Getting out for some fresh air is great for you, but if you want to stay in to watch Netflix and DisneyPlus that's fine too.
Stay safe out there, from all your friends at Churches Estate Agents.